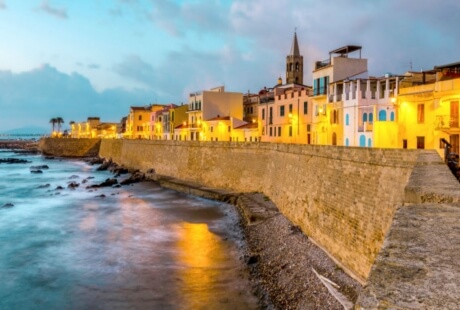 Alghero is one of the most popular tourist resorts in northern Sardinia, and is known for the numerous Catalan influences that are evident in its cooking, its dialect and its architecture.
One of Alghero's main attractions is its very unusual city centre, which stretches from the harbour all the way to the "Dante" promenade: a maze of cobblestone alleyways (with their names written in both Catalan and Italian), enclosed within imposing bastions at the water's edge, filled with Spanish Gothic palazzos, authentic restaurants, craft boutiques where coral and precious stones are worked, delightful bars and nightspots.
The ideal holiday resort for both families and children, Alghero offers myriad opportunities for leisure and entertainment, and can easily be reached both by air, thanks to the nearby Fertilia airport, and by car from anywhere else on the island. Its tourist port, which is amongst the largest in Sardinia, makes it perfect for owners of yachts and other small vessels, which can use Alghero as a base for exploring the wonderful coastline of the Riviera del Corallo ("Coral Riviera") and the Porto Conte Nature Reserve. Moreover, every day boats leave the harbour heading for the famous natural spectacle known as the Grotte di Nettuno ("Neptune's Caves"), which are utterly unmissable.
Alghero is also renown for the working of coral: the coral collected on the sea bed here is very highly prized, since it has a vibrant reddish orange colour, and it is worked into various shapes by expert hands, perpetuating a tradition that has been handed down over numerous generations.

Another of Alghero's great strength is its culinary culture: from the celebrated lobster, considered among the finest in the world, which is often cooked in the Catalan version with fresh tomato and onion, to the fresh fish that every morning reaches the harbour, and is served up in various versions of paella. The delicious dessert known as "crema catalana" is another mouthwatering local speciality. Accompanying it all are the excellent wines made by the wineries in the Alghero area.
You may also be interested in